ALL-HYBRID MAZDA CX-60
ELEVATE YOUR WORLD
Find the new advance Mazda CX-60 SUV at Inverell Mazda Inverell, NSW. Book a test drive today.
EMPOWER YOUR DRIVE
Elevate every journey with impressive hybrid efficiency and dynamic environmental performance. Choose the style of hybrid that suits your world, then see where All-Hybrid Mazda CX-60 can take you.

2.5L PLUG-IN HYBRID (PHEV)
Journey further with impressive electric range of up to 76km, and a recharge time of just 2.5 hours.

3.3L MILD HYBRID TURBO PETROL
Dynamic performance meets impressive efficiency, using just 7.4L/100 km - empowering you to travel on.

3.3L MILD HYBRID TURBO DIESEL
Take your drive to the next level with 550Nm of torque, 187kW of power and equally impressive efficiency.
Mazda CX - 60 Vehicles in Stock
CHOOSE YOUR GRADE
Evolve
Evolve
Base features:
10.25-inch full colour widescreen display (Mazda Connect)
18-inch alloy wheels (Grey metallic)
Blind Spot Monitoring (BSM) with vehicle exit warning
Option Packs available
(Vision technology and Luxury pack)
GT
GT
In addition to Evolve:
Premium Bose audio with 12 speakers
12.3-inch TFT LCD multi-information meter display
Panoramic sunroof
Option Packs available
(Vision technology)
Azami
AZAMI
In addition to GT:
20-inch black metallic and machined alloy wheels
360° view monitor with see-through view
Black nappa leather seats
Option Packs available
(Takumi Pack and SP Pack)
IN CHARGE OF EVERY MOMENT
Heighten your driving experience with powerful six-cylinder drivetrains and responsive handling. From winding roads to city streets, Mazda Mi-Drive modes put you in control of every moment.
NORMAL MODE
BALANCED FOR EVERYDAY
Enjoy the balance of fuel economy and performance with a rear-biased All Wheel Drive, together with Mazda's unique Kinematic Posture Control (KPC) - stabilising the vehicle for greater road grip, and elevated comfort.
SPORT MODE
HIGHER POWER
Unleash the full potential of the 8-speed automatic transmission for a truly dynamic performance. Whether it's the plug-in (PHEV) or mild hybrid, Sports Mode empowers you to experience the height of performance from All-Hybrid Mazda CX-60.
OFF-ROAD MODE
CONFIDENCE ON AND OFF-ROAD
Level up your drive on and off the road with automatically adjusting All Wheel Drive and a Traction Control System. Feel the confidence of the Off-Road Traction Assist, applying power and torque where it's needed and suppressing tyre spin.
TOWING MODE
EFFORTLESS TOWING
Feel comfortable and in control with a towing mode that optimises engine and transmission output to anticipate heavier overall vehicle weight, improving directional stability.
EV MODE
ELECTRIC PERFORMANCE
Experience all electric power and acceleration with a 17.8kWh lithium-ion battery. Enhance your drive with up to 76km emission-free, while achieving an impressive fuel consumption of only 2.1L/100km and emitting just 49g/km of CO2.
TECHNOLOGY THAT ANTICIPATES YOUR NEEDS
Mazda CX-60 offers the latest intuitive technology for a safer, more enjoyable driving experience.
PERSONALISED TO YOU
Enjoy a personalised experience from the moment you enter. All-Hybrid Mazda CX-60 features cutting-edge facial recognition technology that knows you and adapts the vehicle to your preferences.
ALIGNED FOR EVERY DRIVE
Feel taken care of with a car that adapts to you, automatically adjusting seat position, steering wheel, active driving display and door mirrors. Making your journey effortless, so you can enjoy it from the start.
IN TUNE WITH YOUR WORLD
Automatically restoring over 250 settings, Mazda CX-60 aligns with your preferences, from personalised sound and ambient lighting to your perfect climate - recreating your ideal driving atmosphere.
360° VIEW MONITOR
Advanced 360° exterior view and rear sensors allow to reverse with confidence, for a perfect park every time.
HEATED SEATS
Enjoy ideal comfort in any condition with temperature-adjustable seats. (Available on selected grades only)
HANDS-FREE TAILGATE
Feel the ease of opening the tailgate by simply moving your feet under the sensor. (Available on selected grades only)
Helping drivers stay in control, this advanced technology can prevent accidents by sending alerts of an impending impact or, if necessary, apply the brakes.
Stay protected by reducing driver fatigue when following a vehicle in heavy traffic. MRCC assists the driver with accelerator, brake, and steering functions.
(Cruising and Traffic Support - CTS available on selected grades only)
Drive with increased confidence assisted by intuitive tech that reads traffic signs automatically adjusting the speed of the vehicle. Available in optional Driver Assistance pack.
Enhance your road vision with See-through View technology that ensures drivers are always able to see their surrounding environment clearly.
(See through function shown available on selected grades only)
Get more of every moment with technology that displays current speed, recognises traffic signs, and shows key navigation information on the windshield, so it's always on sight. Standard on all grades.
ELEGANCE ENHANCED
Embodying the principles of Kodo essential design, All-Hybrid Mazda CX-60 showcases elegant, timeless shapes with bold proportions and a powerful presence. Inspired by the organic elements and movement of Japanese calligraphy, it's been finely crafted from the ground up to harmonise with nature and your world.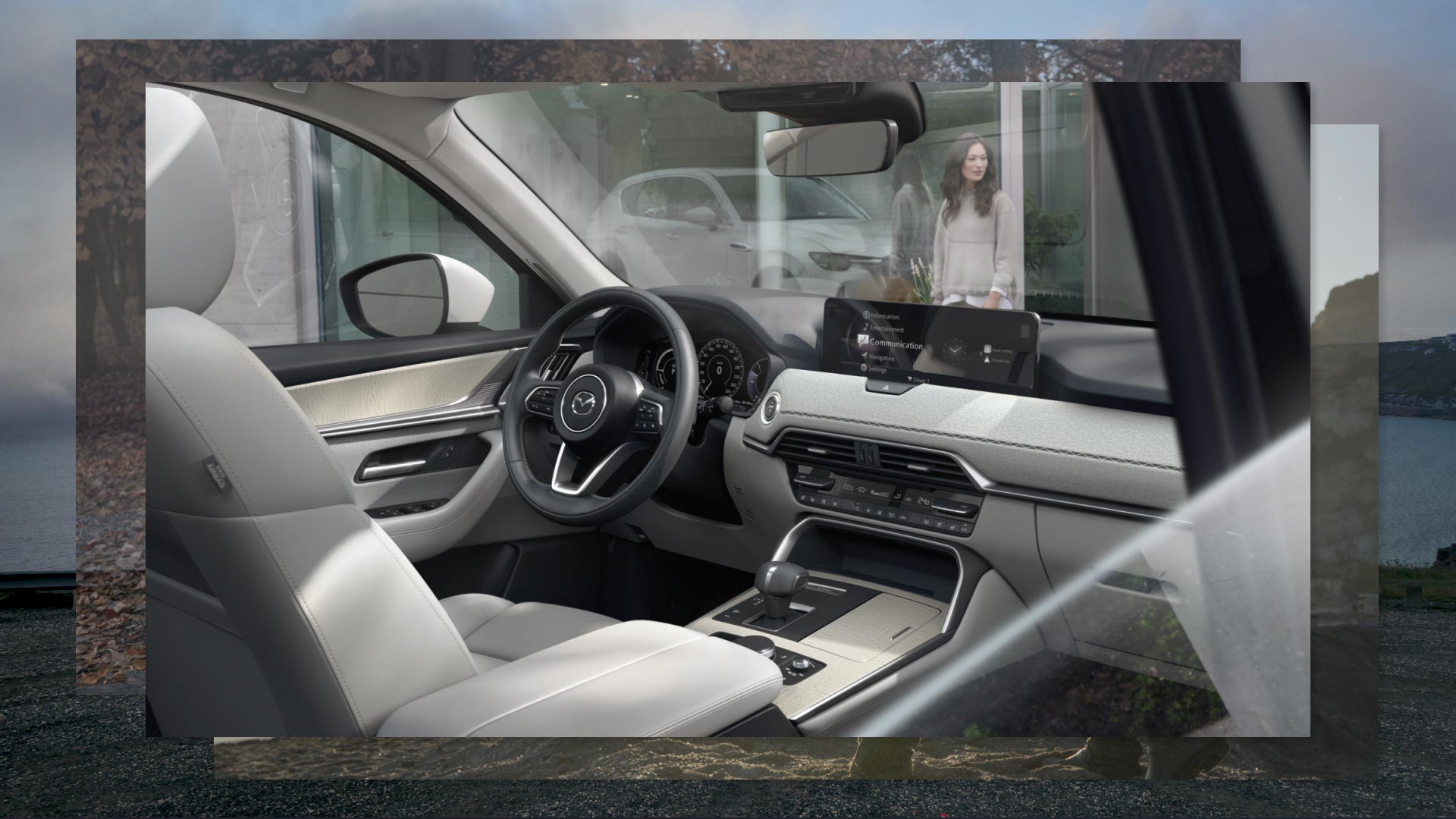 CRAFTED TO EXCELLENCE
From Kakenui stitching to nappa leather trims, curated details and high-quality materials create a serene and sophisticated space for all.
MINDFULLY DESIGNED
Controls are anchored in a bold centre console, for comfort and effortless convenience. Ergonomically designed to enable a connection between you and the world around you.
INSPIRED WITHIN
Harmonising tradition and modernity to bring together an interior that blends premium materials like woven textile and maple wood within a contemporary, spacious and light-filled cabin design.
BOLDLY REFINED
A refined and pure design showcases bold sweeps and waves of light. From roof to rear tyre, Mazda CX-60 strikes a strong downward line, adding a sense of movement, even when still.
FLOWING WITH LIGHT
The specially crafted Rhodium White paint option enhances Mazda CX-60's elegant shapes, reflecting the light and the environment over the bodywork, adding depth and impact to its poised silhouette.
THOUGHTFULLY BALANCED
Mazda CX-60's unique composition, with front-engine and rear-drive give you a feeling of stability and confidence with a powerful connection to the road.